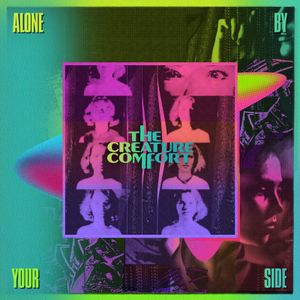 Illuminated psych-rock band, The Creature Comfort, share their new single 'Alone By Your Side'. Listen on Soundcloud at  https://soundcloud.com/thecreaturecomfort/alonebyyourside/s-z1m8d. 
In just over 3 minutes The Creature Comfort give us a brilliant demonstration of off-kilter punk-pop perfection that calls to mind an unholy marriage between The Fall and Violent Femmes and provides an insight into why other bands and scenesters get so enthusiastic about these wayward offspring of the Manchester scene.   
'Alone By Your Side' was recorded at Blueprint Studios in Manchester (Elbow, The Fall, Johnny Marr), mixed by Fred Kindt (The Slow Show) and features the artwork of Luke Insect (Motorhead, Funkadelic, Wolf People). It is self-released on Friday 16 March and distributed via AWAL. 
Singer, Le Jeune recalls how the inspiration for 'Alone By Your Side' came during a wet and blustery walk in the hills between Manchester and Leeds: "There was something about those massive immovable rocks battered by the elements over millions of years that led me to a meditation about the passage of time and its effect on some unrequited, tragic love and whether that fire can still be reignited - or, indeed, whether there can ever be release from it – maybe through some witchy love ritual or exorcism". 
The Creature Comfort bring melodies that never fail to stick, sonic intensity, surreal lyrics with a universal appeal and full-on rock'n'roll performances. From deep-fried psychedelic soul to bubblegum power pop, these sounds come from the edge. Amidst the skyscrapers, the tarmac and the sleaze there's a message to be found.  
To follow-up their critically acclaimed 2013 debut, the band spent most of the last year recording and mixing the material for their second album to be released in the autumn. 
MORE INFORMATION 
For more information, interview and session opportunities, please contact:  
liam@askmepr.com 07976 25 85 77  
DOWNLOADS (audio, artwork and more): https://www.dropbox.com/sh/le1b3j6nnl43ar6/AAD_DJHAx1ecF5tynuvtTD_aa?dl=0 
NOTES  
The Creature Comfort formed after singer and bandleader Ben Le Jeune arrived in Manchester from London and abroad and found some like-minded comrades to develop their signature sound. 
A long and winding road dotted with trials, tribulations and wilderness years led to their critically acclaimed debut album in 2013. Recorded at Elbow's home Blueprint Studios in Manchester, it featured the infectious lead single Sauce and gathered airplay including BBC Radio and XFM. 
The band spent most 2016-2017 writing and recording the songs for their follow-up album, again at Manchester's Blueprint Studios and also Giant Wafer in Wales. 
A series of singles are now being put out as part of the build-up to the second album's release in autumn 2018. This started in December 2017 with What We Want (Power Corruption & Lies) which saw airplay including Gary Crowley (BBC Radio London) and Jim Gellatly (Amazing Radio).  
Alone By Your Side is the second in a series of regular releases leading to their follow-up album in the autumn.
BUY IT HERE!
Video here...