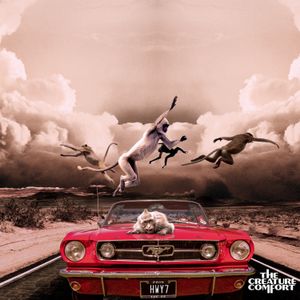 HIGHWAY 7 the new single from The Creature Comfort is out now.
Available as a digital release via all the usual channels you can stream, buy or download it via this link.
HIGHWAY 7 is a rich slice of irrepressible rock'n'roll cake, with the band strapped aboard an unstoppable speed machine as fear kicks in, monkeys fly, and each passing highway brings them ever closer to an inevitably tragic end. Complete with signature twin guitar attack and infectiously filthy vocals, this is a driving song for a lost generation. 
The song had its early genesis in a late impromptu jam many years ago in Manchester's infamous Hulme crescents. The song was finally completed and recorded in 2017 at Giant Wafer in Wales, then mixed at Manchester's Blueprint Studios (Elbow, The Fall, Paul Heaton) by Tim Thomas. Pete Maher (Rolling Stones, White Stripes, Pixies) mastered the track. Artwork is by Grania McLaughlin. 'Highway 7' is released on Missing Door Music and distributed by AWAL.