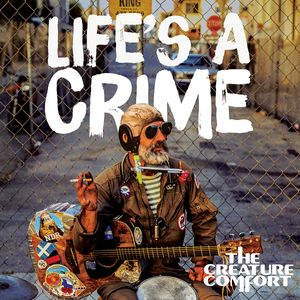 LIFE'S A CRIME the new single from The Creature Comfort is out now.
The song opens with a soulful rhythm section and a spoken word intro that pulls us in for the start of the journey - 'They've got you living on rice, potato and oats, / Then look right through you like you're ghost'). 
Each verse brings a different perspective on the song's central motif. Starting off with some personal tales of rejection, then switching to observations about greed's self-destructiveness until finally, via psychedelic guitar solo somewhat reminiscent of Ty Segall, we hear a universal call to wake up and come together as 'we're fast running out of time'.
'Life's A Crime' was recorded at Giant Wafer in Wales and mixed at Manchester's famous Blueprint Studios (Elbow, The Fall, Johnny Marr). The song is released on the band's label Missing Door Music and distributed via AWAL. 
The artwork features San Francisco street musician 'Uncle Ray' in a photo by Ron Watts.