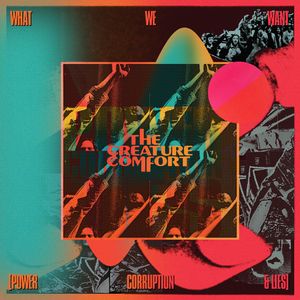 The new single from The Creature Comfort WHAT WE WANT (POWER CORRUPTION & LIES) is out now..
Illuminated psych-rock band, The Creature Comfort, release their single 'What We Want (Power Corruption & Lies)'. 
Not only is this The Creature Comfort's first single since their critically acclaimed 2013 debut album, but also the first of their new material in 20 years!  
Carefully crafted over the past four years and kept under wraps until now, 'What We Want (Power Corruption & Lies)' was recorded and mixed at Elbow's home (Blueprint Studios) in Salford, with impact date due on Friday 15 December 2017. 
In cynical times it'd be easy to dismiss this band of outsiders, who 'disintegrated' as they were just about to make it in the nineties. Touting themselves as the link-that-never-happened between the Roses/Mondays and Oasis/Elbow and driven by a singer, Ben Le Jeune, who disappeared from the scene for 15 years and returned, still believing that things can happen.  
Seemingly, the song's title - 'What We Want (Power Corruption & Lies)' - says it all. But - as with so much about this band - surface clarity slips away to reveal swirling undercurrents. And such is the case with Le Jeune's lyrics, delivered with trademark rock'n'roll authenticity.  
Musically there is an irresistible groove and swagger to the rhythm section, driven forward by soul-style guitar stabs, and all building to explosive sonic intensity in the end section. 
Until you hear The Creature Comfort's music. Until you see them live. Until you meet them and discover their extraordinary passion and integrity. Until you hear the murmurs from the believers (who should all know better). Until you pick up tiny nuggets connecting them to a wider musical tapestry. Then you start to think that maybe, just maybe, there is something special going on here! 
Distributed by AWAL - available through all the usual channels (Spotify, Apple Music, Deezer, Google Play). Artwork by the acclaimed Luke Insect. 
ower Corruption & Lies) signals the first in a series of regular releases leading to their follow-up album next autumn. 
Video