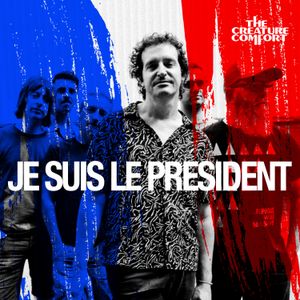 Hot on the heels of the French presidential election, cult Manchester rock band, The Creature Comfort are back with a riotous anthem for our times. 'Je Suis Le Président' is a timely bilingual stomper. 
With its irresistible groove, Jack White-style guitars and an infectious refrain that pays homage to Iggy Pop, the song sees the band take another leap towards illuminated rock'n'roll heaven. Masterfully delivered vocals depict a crazed cartoonish presidential lifestyle, and - "la cerise sur le gateau" - each verse alternates between French and English. This is definitely one to play on repeat!
Find 'Je Suis Le President' is available on all digital channels here.
Some very limited 7" lathe cut vinyl - for more info get in touch.